Coping with rising energy costs
and strained supply chains
This is how HÜBNER is
working for its customers
The HÜBNER Group is present with its broad portfolio of products at more than 30 locations in 17 countries around the world. This lets us produce for our customers in a highly targeted and customized way and typically in their direct vicinity. Through these short delivery routes, we minimize the risk that our products will have to be transported over long sea routes. We have invested substantially in our worldwide production locations with one overarching goal: to reliably supply our customers around the world at the accustomed quality levels.
That's why we produce key materials for our products – such as elastomers, silicone and textiles – at our own company facilities. This increases our supply security while at the same time reducing our dependence on third parties. Working with integrated value-creation and supply chains we achieve operational stability – both for our customers and for our own business.
Still, there is no question – due to the corona pandemic and Russia's war against Ukraine with all its consequences – the situation in many markets is strained. Indeed, the HÜBNER Group is confronted with these challenges in all its business areas. We are working intensively to become more self-sufficient and independent with our energy supplies – and to make these supplies more sustainable. Of course, our investments in making our products consistently and reliably available also have an effect on our costs and thus on market prices. We aim to stay in dialog with our customers about such points – in keeping with the principles of fair relations between partners.
What HÜBNER is doing to
maintain reliable supplies to customers
In response to the current dynamic developments on the world markets, the HÜBNER Group is working intensively to maintain supplies for the company – and thus to make sure that we continue to deliver consistently to our customers. Unfortunately, however, we are also affected by the current disruptions in supply chains, so that there may be isolated restrictions or delays. Of course, we are taking all possible measures to ensure that we can continue to produce in Europe in the best possible way, even in the event of a significant reduction or possible interruption in the energy and natural gas supply, for example. This includes investing in local energy-storage solutions so as to be able to produce using these redundant systems should there be energy supply shortages.
In our role as a supplier of a critical infrastructure segment, we are also in contact with all relevant authorities and political entities to emphasize the importance of energy supply security for our production processes. As a producer of gangways and door safety systems for trains and buses, the HÜBNER Group is intent on making sure that essential public transport infrastructure is maintained. In addition, HÜBNER has a general group-wide program for conserving fossil fuels and energy.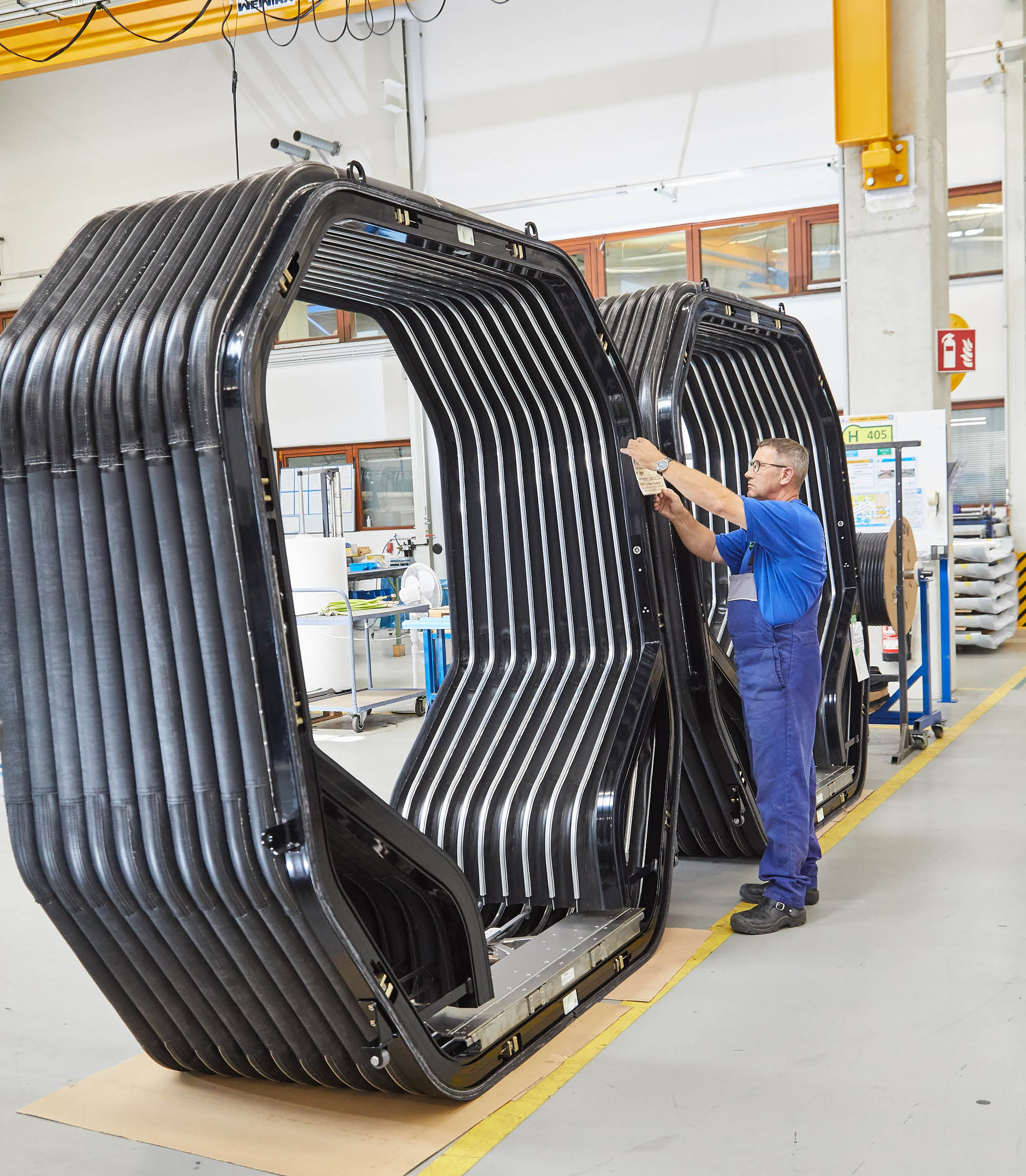 What HÜBNER is doing to
ensure ongoing energy supplies
Independent of the current situation, we have been pursuing sustainability projects at our locations for projects in the areas of energy, environment and resource management in order to make the energy supply of our business processes more independent and self-sufficient. For example, we have operated a combined heat and power plant at our headquarters in Kassel for several years, and large areas have also been equipped with photovoltaics. Another example is India, where we have expanded our production capacities with a new green production facility in the vicinity of Bangalore that will be completed at the end of 2022. For this purpose, HÜBNER contracted with the Indian company LEAD, which is specialized in environmentally friendly construction. At the new site, as little soil as possible has been moved for the construction. In addition, sustainable materials are being used and local companies are doing much of the work.
For all company locations worldwide, a range of sustainability measures are being implemented and are in the concrete planning stage in accordance with the respective local conditions. Photovoltaics, heat exchange systems, district heating, CO2 balancing, and modern process control systems are just a few of an extensive catalog of measures that are being implemented. On the way to achieving greater sustainability, HÜBNER is working to increase the use of renewable energies based on energy sources with a positive ecological balance and organized through management systems that are implemented worldwide.
All of this helps to make HÜBNER's production capacities more and more sustainable while being less dependent on third parties. Which makes it possible for our customers to rely on us as a dependable supplier of the products they require.